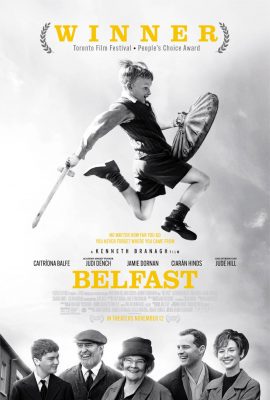 Genre

Drama

Cast

Jude Hill, Lewis McAskie, Caitríona Balfe

Trailer
Belfast, August 1969. Surrounded by sporadic violence and growing danger, nine year old Buddy finds himself confronted with the ugly reality of sectarian conflict. As the suffocating stranglehold of increasing turmoil tightens around his once peaceful working class neighborhood, Buddy tries his best to understand The Troubles. Now Buddy's family face a nearly impossible life altering decision, do they stay or start packing?
This 2021 film written and directed by Kenneth Branagh is semi autobiographical. He describes it as his most personal film.
The story is carried by an outstanding cast including Judi Dench, Jamie Dornan and Cirán Hinds. It is woven throughout with the music of Van Morrison.