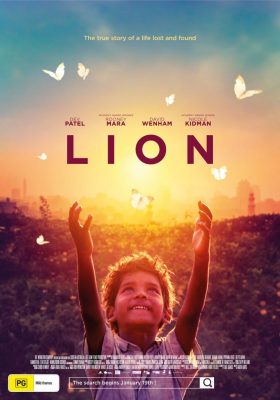 Genre

Drama, Biography

Cast

Dev Patel, Nicole Kidman, Rooney Mara

Trailer
Pawar plays Saroo, a little Indian kid who roams the streets with his brother; they get split up at the railway station as night falls; not knowing his way back, Saroo decides to get some sleep on a stationary train. He wakes up to find to his horror the train has started up and is now thousands of miles away in Calcutta, where he cannot speak the language and cannot remember the official grownup name for his village. He is placed with kindly adoptive parents in Tasmania (Kidman and David Wenham) but is haunted by the need to find his mother, and finally discovers that his laptop can help him.
This big-hearted film does full justice to the horror, the pathos and the drama of his postmodern odyssey.