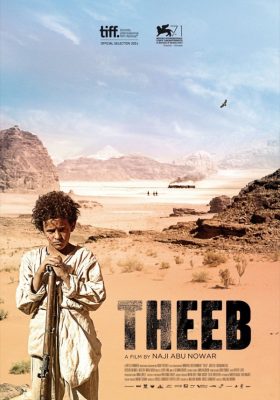 Genre

Adventure, Drama, Thriller

Cast

Jacir Eid Al-Hwietat, Hussein Salameh Al-Sweilhiyeen, Hassan Mutlag Al-Maraiyeh

Trailer
Set in the Ottoman province of Hijaz, in 1916, the only suggestion to a World War is when a foreigner says "we are in a war". Hussein and Theeb are from a family of pilgrim guides and the arrival of the train helping pilgrims to reach Mecca ruins their chief source of income. When an English army officer comes to their clan's camp with a desert guide, rules of Bedouin hospitality force the family to send someone (Hussein) with the officer to his destination and Theeb follows. It is an engrossing adventure tale of a young boy forced to grow up and survive in a desert full of bandits and untrustworthy adults.
You immerse into the story and it feels as if you are watching an adventure, live in the desert, from start to finish. The direction shows the entire journey from Theeb's perspective. Our curiosity matches that of Theeb, who heads out to follow his brother and the mysterious British officer. The stunning scenery, cinematography and heart stopping score makes this film a benchmark as you are rooting for Theeb.