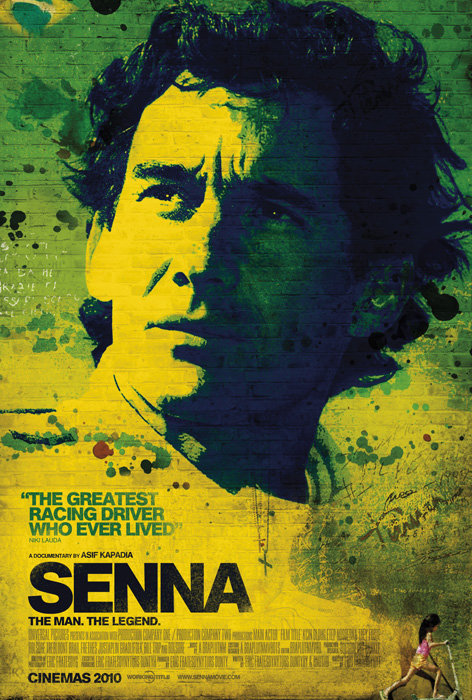 We had another great turnout for our screening of Senna, thanks to everyone who came along! We received 11 comment sheets, with eight people nominating the film the full 5 stars and three people nominating it 4 stars. A selection of comments from movie goers are below:
"Another super night – thanks"
"I was somewhat disappointed in Senna. I came away not knowing any more about the man (or any of the other principals) than I did previously from general knowledge. And I am not a petrol head, infact I couldn't be less interested in racing cars, but I am interested in film. For me/us the film lacked any dramatical content and minimal insights into character/character development. I feel that the BBC Sports team could have done better with a 30 minute incisive documentary. Hey ho, you win some you lose some. Looking forward to Volver."
"One of the best film documentaries I've seen."
And a review from the club secretary:
"I never experienced the buzz that Aryton Senna's first World Cup win generated in 1988. In fact, it wasn't until seven years later that I felt anything at all about the enigma who became regarded as a Brazilian saint – a year after his untimely death at the tender age of 34.
The day I realised what drove Senna's passion was the day I took the steering wheel on my own for the first time after passing my driving test. I picked up my boyfriend to take him for a celebratory drink and as we drove off, he commented on my Aryton Senna driving style. I laughed, thinking how fabulous it would be to have the freedom to drive at full pelt down the street without anything or anyone else getting in the way.
But that was the one and only brush I had with the name – until Thursday when I was fully and wonderfully thrown into the life and times of three-time Formula One world champion Aryton Senna. And wow, was it fantastic. You don't have to be into Formula 1 to feel the thrill of the race, with compelling footage taken, seemingly from Senna's lap as he drives! Compiled solely and slickly from thousands of hours of footage, the film is a considerable feat of editing and frequently heart-stopping.  Senna was one of sport's most compelling personalities – he had real humility, as shown in his close relationship and comments of the Formula 1 doctor. His deep feelings for humanity saw him giving millions of his personal fortune to help provide a better future for the impoverished in Brazil. He put so much of himself, his very soul, into everything he did and spoke with great feeling about his experience of the flow, which he puts down to God's presence. My favourite scene was his eventual triumph in his home country Brazil – the tension, pressure and utter exhilaration he feels are vividly demonstrated in his emotion and subsequent muscle spasms as he hobbles away – pleading for his dad to come and give him a hug – but beseeching him to be gentle due to his extreme discomfort.
Early in 1994 he spoke about his own future, not long before his premature death: "I want to live fully, very intensely. I would never want to live partially, suffering from illness or injury. If I ever happen to have an accident that eventually costs my life, I hope it happens in one instant."
He got his wish but the end of his life caused a wave of grief to wash over his home country as its inhabitants keenly felt it as a national tragedy and the Brazilian government declared three days of national mourning."